这里是标题一h1占位文字
AP-1060-TSB
---
Automatic Flatbed Die-cutter
---
Automatic Flatbed Die-cutter AP-1060-TSB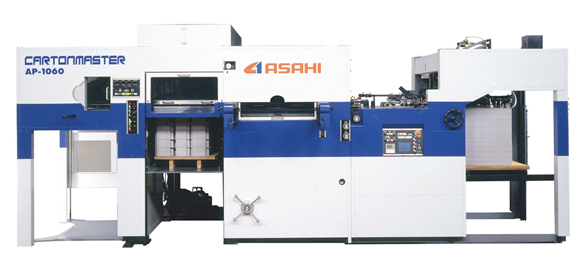 | | |
| --- | --- |
| Model | AP-1060-TSB |
| Paper size | 740X1060mm |
| Minimum paper size | 270X400mm |
| Maximum die cutting size | 730X1050mm |
| Standard bite | 8mm |
| Frame size | 764X1120mm |
| Die cutting pressure | 250tons |
| Corrugated paper thickness | 0.1-1.5mm/lower than 4mm(B Flute) |
| Maximum die cutting speed | 7500i.p.h |
| Total power consumption | 19KW |
| Total Weight | 14.5tons |
Features in Performance
Excusively for die-cutting ≤1mm card paper such as cigarette packs, wine boxes, gift boxes, home appliance boxes, cosmetic boxes, etc and corrugated board with the latest servo-drive feeding system.
Standard machine is equipped with motorized temporary delivery device.
There are various functions and advantages such as automatic checkout function, failure indication fuction, non-stop exampling function, heavy die-cutting pressure, high registration precision, etc.
Feeding Section
Standard machine is equipped with side blowers.
Side baffles are once toggled by push-pull type.
The micro adjusting of feeding paper can be controlled on the operation side.
Rubber wheel and brush are set by one time.
Feeder
Newest feeder is developed by ASAHI Machinery Ltd.
The angle, height and vacuum inlet of the first and second suction head can be adjusted.
The lifting of feeder is motorized.
The feeder can move easily forward and backward.
Press Section
Quick-changing plate and auto self-lock system can shorten the time of changing plate. With independent four angles pressure adjusting device can make pressure balanced and can increase the use-life of die for more than 20%.
Transducers are installed on the die-cutting steel plate to prevent the plate in wrong position which causes deflected creasing lines and defects.
Positioning structure and aerometal teeth rake. Tooth pin adopts double-chip structure, made of silicon manganese, and provides more than twice durability compared with competitors.
The special processed in Japan and supplied in pair, making the service life longer.
Magnetic cluch originally imported from Japan can quickly devide and shut, working normally extra air supply.
Stripping Section
Standard machine is equipped with motorized temporary delivery device.
During blanking, collecting wooden box can be put here.
Blanking Section
Various boxes such as medicine, cigarette boxes can be stacked neatly by the blanking system.
Blanking system and stripping device can be exchanged functionally.
The lifting of top frame is motorized by push-button.
During blanking, the bar device will press on the gripper to guarantee the precise blanking.
AC Motor 、PMDC Motor 、Brushless Motor 、Universal Motor 、Gearbox Motor
Need a service or support? Welcome to enable online message function, we will promptly feedback and provide you with the right solution.
---
Copyright © 2023 Nantai Precise Machinery & Tech. Ltd., All rights reserved Business license SEO